It is the intention of every First Community Bank associate to provide unequaled service to local businesses and their owners in every community in which we operate. That commitment has only grown since our founding in 1995; we've seen the difference it makes when we listen and then provide meaningful solutions, helpful technology, financing and funding, business counsel, retirement planning or even just a listening ear to entrepreneurs and owners and managers who are doing the difficult daily work of running their companies and organizations.
This has never been more true than in this past year. The COVID pandemic impacted us all, as individuals and as families, and also as people doing our best to uphold each other in community. We were proud to play a role in the administration of the PPP program, and we know there are businesses that survived and thrive today as a direct result of that funding. It was, and remains, some of our most important work.
And yet this is but one example of the way a bank that is genuinely focused on a local community becomes part and parcel of its story. We're here to answer your questions, to offer financial perspective, to walk alongside as you implement today's plans and look toward tomorrow. We're here to support you, and to help your business grow. And we're here to help you envision your personal future, as well, with financial and retirement planning designed to help you reach your goals, whatever life you dream.
It's why we are here, quite frankly. We are a bank solely focused on the people and businesses that make our local communities great places to live, to work and to raise families. It's exactly why we promise: We're here, for you.
Sincerely,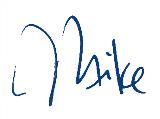 Mike Crapps, CEO